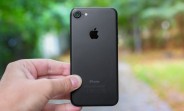 Apple is now the number one smartphone manufacturer in the world (surpassing Samsung for the first time in last five years), according to a new report from market research firm Strategy Analytics.
The report reveals that the iPhone maker shipped a total of 78.3 million smartphones in Q4 2016, capturing 17.8% market share.
On the other hand, the South Korean tech giant managed to ship a total of 77.5 million units in the quarter, which translates into 17.7% share of the market.
"This was the iPhone's best performance for over a year, as Apple capitalized on Samsung's recent…