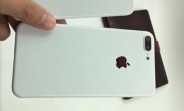 Early on in November, a report circulated the internet claiming that Apple was going to release a 'Jet White' color option (mid-cycle) for the iPhone to follow the wild success of the Jet Black iPhone 7 option.
That report was met with skepticism, as Apple is not the one to normally release new color options in the middle of its product cycle, a decision better left for the launch of Apple's next iPhone in 2017.
In any case, if you wanted to see what a glossy-white iPhone would look like, you can just take a look at the following video clip.
Could this be the Jet White iPhone 7?…